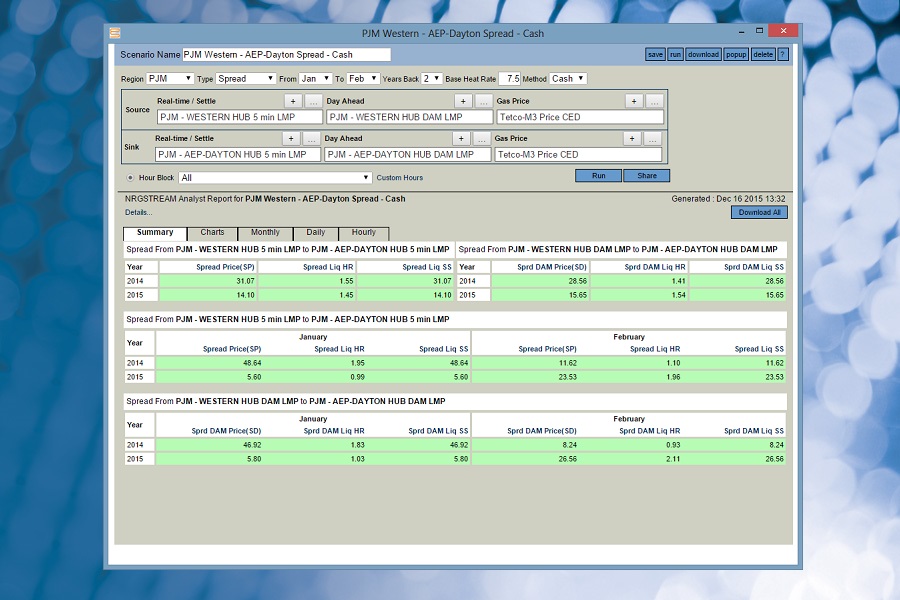 Key Features:
Enjoy immediate results with processing done in our data center
Specify custom or common hour strips and periods to analyze
Save and share scenarios with other members of your team
Download the details of your scenario for further analysis
Available for CAISO, ERCOT, PJM, MISO, ISONE, AESO and NYISO
Leverage competitive advantage by having us compile vast amounts of customized source information and deliver the analysis to you directly.
Enjoy the capability of running multiple scenarios for various regions and locations without the time consuming work of data acquisition and scenario modeling.
Review advanced analytics for any node or spread in seconds.
The core benefit of ANALYST is its capability to mine our massive database and compile your results immediately. Analyst allows you to perform multiple point to point and DART scenarios in any nodal power market and evaluate the historical results. Output from ANALYST includes rollups for various periods with spreads, averages, heat rates and spark spreads.